ORDER

SEARCH

ARTISTS

CATALOG

CDS

EMAIL

Frog Peak Music is an artist-run composers' collective dedicated to publishing and producing experimental and unusual works by its member artists, and is committed to the idea of availability over promotion. Frog Peak Music is a not-for-profit organization in which member artists determine the form and content of their own work.
Frog Peak Projects
---
---
Frog Peak Music / Main Street Museum Concert Series
Frog Peak Music and the Main Street Museum are pleased to present an on-going series of concerts by visiting artists which offers intimate, eclectic performances by some of the most creative and exciting performers in new music today. The Main Street Museum is a community-interactive, non-commercial, non-curatorial exhibit space of Vermontiana and works by local artists. Concerts to date have featured Anton Lukoszevieze, Tim Kreger, and Philip Corner with Phoebe Neville.
---
The Frog Peak Collaborations Project
Double CD of 121 pieces by 61 composers on a soundtext by Chris Mann. All the pieces were created from a single sound file of Chris Mann reading a text on collaboration, written especially for this project. The sound file was distributed freely worldwide over the Internet; the resulting compositions were mailed to Frog Peak Music for this CD compilation. Participating composers are from all over the world, and this CD has now been featured on many radio shows and international festivals. It is an astonishing set of one minute variations that explore a universe of artistic and technical ideas.Double CD $20. (check or credit card).
---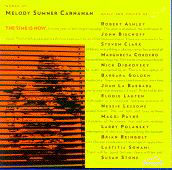 The Time is Now
A boxed set of book and CD, a new edition of Melody Sumner Carnahan's classic The Time is Now (Burning Books) with a new CD of works by various composers based on Sumner Carnahan's text. All new CD releases of pieces by Robert Ashley, Joan LaBarbara, Nick Didkovsky, Latitia Sonami, Larry Polansky, John Bischoff, Barbara Golden, and others. CD and book, $20. (check or credit card).
---
Lingua Press
The availability of the complete inventory of Kenneth Gaburo's lifetime experimental publishing venture. This catalog contains most of Gaburo's own work, and scores and writings by many other composers, including the book collection Allos. Lingua Press occupies an important position in the history of American experimental independent music publishing.
---
A set of editions of the works of Johanna Magdalena Beyer, an important American experimental composer from the 1930s, who was almost completely unknown for decades before her death. These editions are copied and edited as a voluntary community effort by composers, musicians, and scholars. #'s 1-30 are available now, with more currently in preparation. Works include Bees for solo piano (edited by Larry Polansky), The Federal Music Project for chorus (edited by Margaret Fisher with assistance from Lou Harrison), Dissonant Counterpoint for solo piano (edited by David Fuqua), Movement for Double Bass and Piano (David Fuqua), Ballad of the Star - Eater for clarinet and soprano (edited by Charles Shere), and Three Songs for Clarinet and Soprano (edited by Mark Warhol).
The series editor for the Frog Peak/Johanna Beyer project is Larry Polansky, series associate editor is John Kennedy of Essential Music, and several others have provided valuable editorial assistance.
---
An object-oriented computer language for music composition, performance, and experimentation, co-authored by Phil Burk, Larry Polansky and David Rosenboom at the Mills College Center for Contemporary Music. There is a CD called Hallways, produced by Jeanne Parson, of music done in HMSL